Salient Features :
Comfortable Heat Setting.

Shock Proof construction with Teflon coated heating element.

Four way controller with two-way power-off system.

9 Feet long mains cord.

Low power consumption.

With washable cover.
Sabar Clinical Warming Mats are manufactured to the highest standards and are inspected and tested to ensure safety, comfort and reliability.
Applications :
Clinical Heating Mat Provides warmth during Cold and Clinical treatments.

Helps to avoid hypothermia by maintaining body temperature during surgery.

Ideal to use in case of reversal of anesthesia and post surgical recovery.
Clinical Warming Mat
OR Patient Warming System
Ideal For :
ICCU,

Operation Theaters,

Anesthesia,

Post Recovery Rooms,

Pediatrics Care Units,

And Rehabilitation Centers etc...
HIGHLY INSULATED FOR TOTAL SAFETY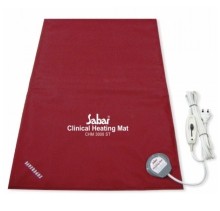 Clinical Heating Mats with manual Heat setting:
1) CHM 3000ST - Size: 43 cm x 70 cms
2) CHM 7100ST - Size: 48 x 148 cms
Clinical Warming Mats with Computerised Temperature Controller
1) CWM 3200 - Size: 43 cm x 70 cm
s
2) CWM 7200 - Size: 48 x 148 cms
(All product size suits to Surgery Tables)